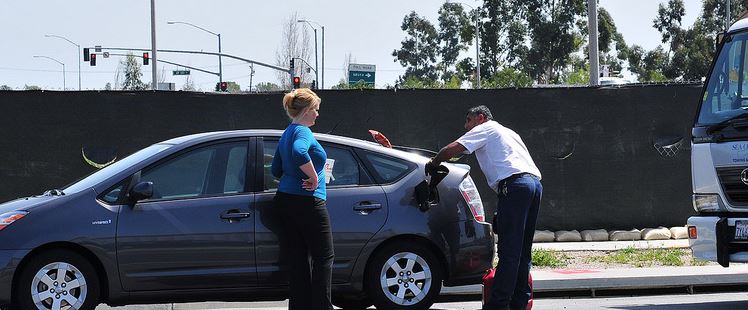 Fuel delivery services are provided 24/7 by Lauderhill Towing Company. We have a fleet of service vehicles that can come to your location and deliver fuel wherever you may be in Broward County. With our streamlined delivery process, all you have to do is call and provide us with the necessary information about your vehicle, its location and what type of fuel it needs. Our experienced employees will then get straight to work delivering the fuel without any delays or interruption. The entire process takes less than 30 minutes from start to finish, so you don't have to waste time waiting for help.
So if you ever find yourself stranded on the side of the road and you don't have some extra gas, and need a quickly fuel delivery in Lauderhill, FL just give us a call at (754) 253-3960 and we'll help you immediately. Trust us to get you back on the road quickly.
Gasoline or Diesel
We deliver both gasoline and diesel fuel to any location in Broward County. We also offer the convenience of mobile payment options so you don't have to worry about carrying cash or waiting for a check to clear before we can refuel your vehicle. All major credit cards are accepted, making it even easier for you to get your car running again without any hassle. So if you ever run out of gas or diesel, just give us a call and we'll be there with a full tank in no time. 
Emergency Fuel Delivery Services
At Lauderhill Towing Company, we understand that sometimes you may need help getting fuel now – not later. That's why we offer emergency fuel delivery services all throughout Broward County. No matter what time of day or night you may find yourself in need, just give us a call and we'll make sure you get the fuel you need as soon as possible. We even offer after-hours services for those times when it just can't wait until tomorrow. 
For fast and efficient fuel delivery services, trust Lauderhill Towing Company to get you back on the road quickly. Our experienced team is here to help 24/7, so never hesitate to call for assistance. From gas to diesel and everything in between, we have the fuel your vehicle needs at a price that won't empty your wallet. Get in touch with us today – we look forward to helping you soon.
Fuel Delivery for Businesses
Keep vehicles and other machinery at your site running with our fuel delivery service. This is a pretty convenient choice for businesses that need to make sure there is always a supply of fuel available. Our team can provide on-time deliveries so you don't have to worry about unexpected outages or delays in production. We also offer volume discounts for businesses that need large quantities of fuel on a regular basis, so be sure to get in touch with us for more details about this service. 
At Lauderhill Towing Company, we strive to deliver the best fuel delivery services in Broward County. No matter what type of vehicle or machinery you may need refueled, our experienced team is here to help. We also offer other services including auto wrecker, jumpstart services, lock-out services and more. So give us a call today and let us show you why we are the top choice for efficient and reliable fuel delivery solutions. 
Lauderhill Towing Company: (754) 253-3960.