Lauderhill Lakes Towing Company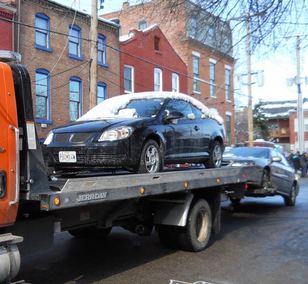 For the motorists of Lauderhill Lakes getting a vehicle stuck somewhere doesn't top their list of concerns. But worry or no, it happens sometimes. When it does, Lauderhill Lakes can always call Lauderhill Towing Company.
We have towers and wreckers for pretty much any type of vehicle. This includes industrial, semi trucks, RVs, and motorcycles.
It's not everyday that you need a tow truck, but when you do have an emergency, there's no better choice than Lauderhill Towing Company. We offer 24-hour service and will be at your location in a jiffy.
Our experienced drivers are knowledgeable and can get the job done quickly and safely with minimal disruption or damage to your vehicle. Your car or truck will arrive undamaged and ready for the next adventure. 
At Lauderhill Towing Company we provide efficient and reliable services at competitive prices. You won't find any hidden fees or extra costs like other companies may charge. Whatever you need us for, whether it's an emergency or just a regular tow, we've got you covered! So don't hesitate to call us if you ever need a tow. We'll be there within a matter of minutes.
We're the finest towing company in Lauderhill Lakes that you can choose. Next time you're in a vehement vehicular scrape, contact us and experience our unbeatable service first-hand. Don't get stuck on the side of the road – call Lauderhill Towing Company at (754) 253-3960 now!
A Fleet of Fine Trucks
We offer towing of different kinds, which often means a different truck for each job. Lauderhill Towing Company has:
Integrated towing

Hook and chain towing

Flatbed towing
We also feature a winching service for those of you stuck in a ditch or some of that soupy beach sand. No matter what you drive or where it's stuck, Lauderhill Towing Company can provide safe and secure towing. 
We certainly hope you never need a tow truck, but if you do, we're here for you 24/7! Call us now for the best service in Lauderhill Lakes. We'll be there in no time at all.
24/7 Emergency Roadside Service
We're open 24 hours–but not in a row, so you'll have to catch us on the upswing (kidding, kidding).
You can call Lauderhill Towing Company at any time of day for our emergency roadside services. We provide:
Flat tire service

Lockout assistance 

Accident recovery and removal 
If you're ever in a jam, we've got the tools and expertise to get you out of it–quickly, safely, and with minimal disruption to your day. Let us help! Call us now for fast and reliable service. 
How Far From Lauderhill to Lauderhill Lakes?
We're located just 7 minutes south of Lauderhill Lakes. That means you won't be waiting long for our tow truck to arrive. We'll be there before you know it–ready to rescue your vehicle from whatever trouble it may have gotten into. 
So, don't hesitate to call Lauderhill Towing Company the next time you need a tow truck. Our team of experienced operators is available 24/7 to help get your ride back on track.
Contact us by dialing (754) 253-3960.